Cooking Tips Will Make Your Rack of Lamb Recipe a Sure Winner
A rack of lamb recipe is worth waiting for.

Have you ever cooked a rack of lamb? Either yes or no--you're in for a treat! I raise grassfed lamb on our farm and know that this cut (when properly cooked) is a feast for both palate and eyes.
3 Tips to Successfully Cook Grassfed Meat
A grassfed rack of lamb recipe cooks about 1/4 faster than commercial supermarket lamb.
Tip #1 Don't Overcook. Grassfed meats are lean. There's usually not much fat to insulate the meat as it cooks. Also the rack of lamb will continue to cook after you take it out of the oven. Take it out about 10 degrees before it reaches the desired temperature of 125 to 150 degrees. This is somewhat short of what the USDA recommends for commercial lamb, but will produce the tastiest pasture-raised lamb that your family has ever sunk their teeth into.
My biggest mistakes have been to cook too long or use too high of heat. Use lower temperature than in conventional cooking. You'll get a fuller flavor and a juicer feast.
Tip #2 Use a Meat Thermometer. Since ovens differ this is the surest way to monitor the progress of your prize project. After all, a rack of lamb is a prime piece of meat, and when done well, a work of art.
A digital thermometer that can be read from the oven's exterior without opening the door is optimal.
Tip #3 Let the natural flavors of grass-fed lamb speak for themselves. Virtually all meat sold in supermarkets these days has been fattened on corn in feedlots. Not so with grassfed lamb. Every species of grass or weed or legume adds a slightly different flavor to the meat. Every one of the myriad soil types adds to the mix. This means each rack of lamb brought to your table has it's own unique, natural flavor.
I grew up eating grassfed meat served with only a dash of salt and pepper. Nothing more is needed. Rubs and sauces and marinades may certainly be tried, but first delight your palate with the unique taste of natural grassfed lamb. In Addition to these rack of lamb recipes you may want to see:

Lamb Spare Ribs with Cranberries
Lamb Heart Stew
Lamb loin chop recipes will thin you
Leg of lamb recipes enjoy ever-increasing popularity
Grasssfed recipes keep French women slender Find out why and they'll do the same for you!
Lamb Chop Recipes have more cancer-busting CLA than any other meat
Great Taste and Food Safety are just 2 advantages of grassfed whole lamb
You'll Drool Over This Lamb Shanks Recipe
Lamb Shank Recipes
Osso Bucco Recipe
Anderson Farm Selects Slow Cooker Lamb Shanks Recipe
Lamb Steak Recipes --Tender and Luscious If You know the Secret. . .
Lamb Liver Recipe That Turns Liver Haters Into Liver Lovers
Lamb Tongue --Variety Meats Create Variety Treats
Lamb Roast Recipe Chosen in 100 Percent of Taste Tests
Pulled Lamb Shoulder Roast with Goat Cheese Empanada
Norwegian Lamb Heart Recipe (Sylta) Uses Everything Except the "Baa"
Can Lamb Hearts Cure Human Heart Ailments?
A Ground Lamb Recipe Eliminates the Boredom of Beef, Beef, Beef
Ground Lamb Recipes Will Knock your Socks Off!
Want Variety? Substitute Lamburger For Hamburger
How to Cook State Fair Award Winning Grilled Spare Ribs
How to Cook Lamb Ribs

Classic Rack of Lamb Recipe (With a Nutty Crust Added)
To understand this grassfed rack of lamb recipe it might be helpful to know that the rack is the rib section of the lamb. It is a prime cut between the shoulders and the loin. Because the muscles here don't have to work as hard as the muscles in the shoulders and legs the meat in this rack of lamb recipe is very tender. It's meaty and easy to prepare and eat.
If the butcher has cracked the rack between the joints before you get it home, it's also very easy to separate into chops as shown in the picture above. And even if the rack is not cut at the joints between the rib bones, you can do it yourself after cooking to serve each person a chop. Or, as is commonly done, serve the entire rack on a platter. Either way, a grassfed rack of lamb recipe is a treat.
This is one of the traditional styles of rack of lamb recipes with a unique twist. The nuts add a crunchy crust and will most likely put a smile on every face. When you serve this rack of lamb recipe, get ready for a stream of superlative compliments.
Ingredients:
1 grassfed rack of lamb (usually 8 chops per rack)
Salt and pepper
Olive oil
mustard
1/4 cup fresh thyme, finely chopped
1/4 cup fresh oregano, finely chopped
1/4 cup fresh rosemary, finely chopped
1/4 cup fresh parsley, finely chopped
1/2 cup pistachio nuts (your favorite nuts may be substituted), toasted and finely chopped
Preheat oven to 375° F. Season lamb rack with salt and pepper. In a large frying pan, pour in a little olive oil and sear the lamb rack on both sides.
Transfer the meat to a shallow pan and roast in the oven for 10-12 minutes; remove from oven. Coat lamb rack with mustard.
In a medium-size bowl, combine thyme, oregano, rosemary, and parsley; pat mixture over the lamb. Pat pistachio nuts over the herb mixture. (This gives the crust effect). Return to oven and bake for 4 to 5 minutes. Remove from oven. You may then slice between chops or serve the whole rack of lamb recipe as a roast on a platter.
Makes 8 small servings if cut into chops. (Lamb chops are small, about 1/2 the size of pork chops.)



Thymed Rack of Lamb Recipe
1 grassfed rack of lamb with at least 8 ribs (chops), well trimmed and with the rib bones left long
1 Tablespoon vinegar
2 Tablespoons olive oil
3-4 sprigs fresh thyme.
With a sharp knife, cut a diagonal crisscross pattern in the outside layer of fat on the rack. Rub the grassfed lamb with the vinegar and oil and place the thyme on top. Let sit for 30 minutes.
Prepare the grill.
Grill the rack over very hot coals for 5 minutes on each side, or slightly longer if desired. The meat should be pink.
Slice into individual chops and serve hot.
Wined and Thymed Rack of Lamb Recipe
1/2 cup dry white wine
1/2 cup olive oil
3 sprigs of fresh thyme
3-4 fresh bay leaves
3 sprigs of fresh marjoram
1 1/2 pound grassfed rack of lamb (8 chops)
Mix together all ingredients except the grassfed lamb in a medium bowl. Add grassfed lamb, cover, and let sit for 2-3 hours.
Preheat the broiler. Remove grassfed lamb from the marinade and cover the ends of the bones with foil to prevent burning.
Line a shallow roasting pan with foil. Place the lamb in the pan, fat side down. Broil for about 4 minutes. Turn lamb over and continue broiling for another 1-3 minutes. The grassfed lamb should be pink.
Let grassfed lamb sit for 3 minutes. Slice into individual chops and serve.


Grassfed Baby Rack of Lamb
1 baby grassfed rack of lamb (about 7 chops)
1 cup fresh white bread crumbs
1/2 cup finely chopped parsley or chervil
1 garlic clove, minced
2 Tablespoons mustard
2 Tablespoons olive oil
1 teaspoon coarse kosher salt
Freshly ground black pepper to taste
Preheat the oven to 400 degrees F.
Carefully trim the grassfed rack of lamb, leaving the rib bones as long as possible. Leave about 1/4 inch of fat on the outside of the rack. Cut crisscrosses in the fat with a sharp knife.
In a small mixing bowl, combine all the remaining ingredients.
Put the grassfed rack of lamb in a roasting pan and cook it in the oven for 12 minutes. Remove the grassfed lamb and reduce heat to 350 degrees F.
Pat the bread crumb mixture on top of the rack and on the bony side to form a crust.
Return to the oven for another 10 to 12 minutes. Do not overcook. The Grassfed lamb should be served very pink in order to enjoy the rich natural flavor.
This grassfed rack of lamb recipe serves 2-3 people.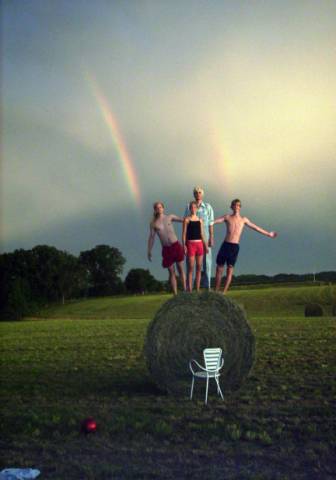 Anderson Farm in Muscatine, Iowa 52761 is located near Iowa City, Iowa; Davenport, Iowa; Bettendorf, Iowa; Rock Island, Illinois; and Moline, Illinois
Our family raises and sells grassfed lamb directly to health-conscious consumers. We began direct marketing quality lamb products in 1994. I know the industry inside out. Sometimes demand is so high we sell out. When this happens I suggest getting grass-fed lamb --and other products-- from US Wellness. For quality and consistency, they can't be beat. Plus, they deliver right to your door. US Wellness Meats sells quality grassland meat products - Visit them Online!

TOP of rack of lamb recipe page
HOME to Grassfed Recipes--Health Never Tasted So Good!