Grassfed Recipes Make Taste Buds Dance


Why Grassfed Recipes? Because nearly 100% of meat and milk sold in the US today comes from grain-fattened cows. And fat cows make fat people. There's got to be a better way. . . .
What is grassfed? (No, it doesn't mean we eat grass!) It means the farmer grazes his animals on grass instead of grain--the way God and nature intended.
Should grassfed meat be cooked differently than regular meat? Yes, cook it low and slow in order to unlock its rich taste and tenderness. If you don't, it may turn out tough and tasteless. This site specializes in recipes for grassfed meat. And take heart, the info here enhances the flavor and tenderness of store-bought meat as well.
What's special about grassfed? The meat, milk and eggs used in these recipes are loaded with nature's fat-fighting, cancer-beating substances--CLA and Omega 3. Grass-fed products are generally organically raised and contain no artificial hormones, steroids or antibiotics. To cinch in that extra inch and make your taste buds dance, try grassfed recipes.
My parents raised me on a grass-based dairy farm. Some of these recipes were in my mother's tried-and-true recipe box. Now my own family raises grassfed sheep and we eat 'em too. We eat from the grassfed recipes you find here!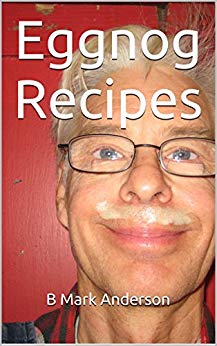 "Eggnog—Not Just For Christmas Anymore!" will eggs-ceed your expectations!
Right Now buy this ebook on Kindle for just $3.99
"Excellent!" Erik H., Colorado
"Searching for the right recipe can be overwhelming. Mark breaks down eggnog recipes for you with his helpful monthly suggestions! If you are like me, and still crave eggnog after the holidays, the "January " section is a great place to start!" Selina P, Minnesota
"In the past, it has always been really difficult to find non-alcoholic eggnog recipes for guys like me. No longer--that's why I love 'Eggnog--Not Just For Christmas Anymore!'" John A, United States Army, Afghanistan