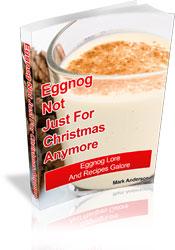 Want to Egg-spand your culinary pleasure? "Eggnog—Not Just For Christmas Anymore!" will eggs-ceed your egg-spectations! Eggnog lore, recipes galore. Buy Ebook Now for Only $9.95!


"Excellent!" Erik H., Iowa
"In the past, it has always been really difficult to find non-alcoholic eggnog recipes for guys like me. No longer--that's why I love 'Eggnog--Not Just For Christmas Anymore!'" John A, United States Army
Nonalcoholic Eggnog
Ingredients:

6 eggs, preferably from grassfed hens
2 ½ cups milk, preferably from grassfed cows
1/3 cup sugar
1-tablespoon imitation rum extract
1-teaspoon vanilla
1 cup whipping cream
2 tablespoons sugar
Ground nutmeg


Procedure:

Break eggs into a medium to large saucepan. (I recommend eggs and milk from grassfed sources because of substantial health benefits. If you can't find grassfed eggs and milk, use regular eggs and milk.) Beat eggs until creamy. Add milk and sugar and then stir.

Heat over gentle medium heat, stirring almost constantly until mixture coats the edge of the saucepan. Remove from heat. Place saucepan into freezer (or chill in ice water) to cool immediately. Leave in freezer for about 5 minutes, stirring once. Stir in rum extract and vanilla. Leave in freezer for 30-40 minutes, but don't allow mixture to freeze. (Once I left the pan in the freezer too long. The pan froze solidly to the ice on the freezer tray. How do you pry a frozen pan loose from a freezer tray? Not good!)

At serving time, whip cream and 2 tablespoons sugar until gentle peaks form. Pour chilled eggnog mixture into serving bowl. Fold whipped cream into mixture.

Serve immediately. Sprinkle ground nutmeg onto each serving if desired. Makes about five servings. (Warning: This traditional eggnog is lip-smackin' good--be prepared to double the recipe.)

Note: Although this is a non-alcoholic eggnog recipe in current form, rum may be substituted for the imitation rum extract if desired.
Everyone Likes to Talk About Eggnog! What's Your Favorite?
What's your favorite eggnog and why? Did anybody go wild over it? Share! (Doesn't have to be a nonalcoholic eggnog.)

All Time Favorite Eggnog Recipes
Click below to see favorites from other visitors to this page...

Teenager's Love It!
4 eggs, preferably from free-range hens 3 cups milk 1 (14 ounce) can sweetened condensed milk 1/2 cup half-and-half cream 1/2 teaspoon vanilla extract …
"Eggnog--Not Just For Christmas Anymore!" is no boring read. A bit of humor will tickle your funny bone.
"Eggnog—Not Just For Christmas Anymore!" will eggs-ceed your egg-spectations!
The holiday recipes are eggs-quisite; yes, even egg-stravagent. The multiple eggnog-for-breakfast strategies are egg-straordinary. Ever tried breakfast with eggnog? It's quick, easy and egg-stra healthful.I originated nearly all these egg-sotic recipes myself. Maybe you think I'm egg-o-tistical, but enjoy the book, try the drinks. You'll most likely lick your chops and eggs-claim, "Wow! Eggs-ceptional! Out of this world!". Buy Ebook Now for Only $9.95!



TOP of Nonalcoholic Eggnog Page
SAVOR A Variety of All Sorts of Eggnog Recipes
HOME to Earth's Finest Flavors Come From Grassfed Recipes