Rib Eye Steak Recipes Help Stop Child Obesity
Eat up! Rib eye Steak Recipes.



Dine your family on rib eye steak recipes. Did you know that ribeye steak recipes are obesity busters?
Because meat from grass-fed animals is lower in fat than meat from grain-fed animals, it is also lower in calories. (Fat has 9 calories per gram, compared with only 4 calories for protein and carbohydrates. The greater the fat content, the greater the number of calories.) As an example, a 6-ounce steak from a grass-finished steer can have 100 fewer calories than a 6-ounce steak from a grain-fed steer. If you eat a typical amount of beef (66.5 pounds a year), switching to lean grassfed beef will save you 17,733 calories a year—without requiring any willpower or change in your eating habits. If everything else in your diet remains constant, you'll lose about six pounds a year. If all Americans switched to grassfed meat, our national epidemic of obesity might diminish.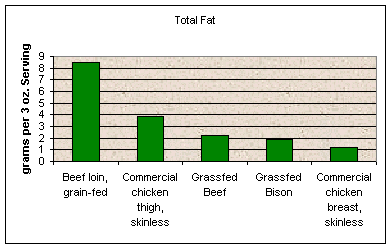 Data from J. Animal Sci 80(5):1202-11.
(Reprinted with permission from www.eatwild.com, Jo Robinson's website.)
Child obesity has become an epidemic in our country. The number of overweight children ages 6 to 11 doubled between 1980 and 2000, and tripled among adolescents ages 12 to 17. 59 million Americans are considered obese according to the Centers for Disease Control and Prevention. That's about 1 of every 5.
What causes obesity among children? Many factors. Certainly one is diet. These rib eye steak recipes could be helpful.
Let's join the grassfed revolution, find a local grass-feeding farmer (or buy online), and turn the tide against obesity in America. Preparing one of these grassfed ribeye steak recipes is a good way to start.


Grilled Mustard and Honey Rib Eye Steak Recipe
Ingredients:
1/3 cup Dijon mustard
1 tablespoon fresh parsley, chopped
1 1/2 tablespoons honey
1 tablespoon cider vinegar
1 tablespoon water
1/4 teaspoon Tabasco pepper sauce
1 dash of black pepper
2 1 inch thick grassfed rib eye steaks
1 large onion
Directions:
Combine mustard, parsley, honey, vinegar, water, Tabasco sauce, and pepper.
Slice onion into 1/2 inch thick slices.
Place steak and onions on grill over medium heat. Brush both sides liberally with glaze. Grill rib eye steaks to at least an internal temperature of 120 degrees or to desired doneness.
Do not overcook. Grassfed rib eye steak recipes cook quickly because they are leaner than regular beef recipes. Turn once during grilling. Brush liberally with glaze after turning.
Broiled Rib Eye Steak
1. Turn oven regulator to "broil" or to highest degree of setting.
2. Trim surplus fat from meat; if meat is very lean, brush surface with fat.
3. Slash fat edge of meat at 2 inch intervals to prevent curling.
4. If desired, steak may be rubbed with cut side of clove of garlic or spread thinly with prepared mustard.
5. Grease broiler rack; add steak.
6. Place broiler pan at least 1 1/2 inches below heat. The thicker the steak, the greater the distance.
7. Broil with broiler door open.
8. Broil about 4 minutes; season; turn.
9. Broil second side about 4 more minutes; season; serve at once.





Our family raises and sells grassfed lamb directly to health-conscious consumers. We began direct marketing quality lamb products in 1994. I know the industry inside out. That's why I favor getting grass-fed meat --and other products-- from US Wellness. For quality and consistency, they can't be beat.
US Wellness Meats sells quality grassland meat products - Visit US Wellness online!
TOP of Rib Eye Steak Recipes
FEAST on MORE Beef Recipes
HOME to Grassfed Recipes--Health Never Tasted So Good!