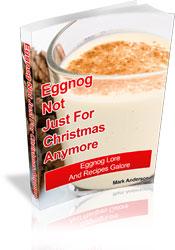 Want to Egg-spand your culinary pleasure? "Eggnog—Not Just For Christmas Anymore!" will eggs-ceed your egg-spectations! Eggnog lore, recipes galore. Buy Ebook Now for Only $9.95!


"Excellent!" Erik H., Iowa
"Searching for the right recipe can be overwhelming. Mark breaks down eggnog recipes for you with his helpful monthly suggestions! If you are like me, and still crave eggnog after the holidays, the "January " section is a great place to start!" Selina P, Minnesota
"In the past, it has always been really difficult to find non-alcoholic eggnog recipes for guys like me. No longer--that's why I love 'Eggnog--Not Just For Christmas Anymore!'" John A, United States Army
Next, I notice the taste of this New Years Eggnog is supreme. It's lustful. A real spoiler. Better splurge now before the New Year kicks in when you'll be faced with trying to keep your resolutions!
Believe me, with this tempting holiday eggnog on the table, no one's a match for any attempts at self-control. Who needs rum? This is strictly a non-alcoholic eggnog, yet could prove addicting. Indulge yourself before midnight!
New Year's Eggnog
Ingredients:
4 eggs, preferably from free-range hens
3 cups milk
1 (14 ounce) can sweetened condensed milk
1/2 cup half-and-half cream
1/2 teaspoon vanilla extract (imitation vanilla OK)
Pinch of nutmeg

Procedure:
Place all ingredients except nutmeg into blender. Blend until all ingredients are thoroughly mixed, about 1 ½ minutes or so.
Serve immediately, or if desired, chill in refrigerator. Garnish with nutmeg. What to do with any left over? Don't worry—with the New Year's Eggnog, there won't be any leftovers!
Note: To serve larger groups, make several batches or double or triple the recipe and use a large mixing bowl.
TOP of New Years Eggnog
FIND More Scrumptious Eggnog Recipes
HOME to Grassfed Recipes--Health Never Tasted So Good!