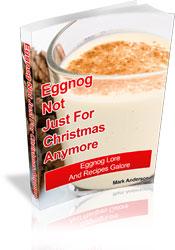 Want to Egg-spand your culinary pleasure? "Eggnog—Not Just For Christmas Anymore!" will eggs-ceed your egg-spectations! Eggnog lore, recipes galore. Buy Ebook Now for Only $9.95!


"Excellent!" Erik H., Iowa
"Searching for the right recipe can be overwhelming. Mark breaks down eggnog recipes for you with his helpful monthly suggestions! If you are like me, and still crave eggnog after the holidays, the "January " section is a great place to start!" Selina P, Minnesota
"In the past, it has always been really difficult to find non-alcoholic eggnog recipes for guys like me. No longer--that's why I love 'Eggnog--Not Just For Christmas Anymore!'" John A, United States Army
"Eggnog--Not Just For Christmas Anymore!" is no boring read. A bit of humor will tickle your funny bone.
"Eggnog—Not Just For Christmas Anymore!" will eggs-ceed your egg-spectations!
The holiday recipes are eggs-quisite; yes, even egg-stravagent. The multiple eggnog-for-breakfast strategies are egg-straordinary. Ever tried breakfast with eggnog? It's quick, easy and egg-stra healthful.I originated nearly all these egg-sotic recipes myself. Maybe you think I'm egg-o-tistical, but enjoy the book, try the drinks. You'll most likely lick your chops and eggs-claim,"Wow! Eggs-ceptional! Out of this world!". Buy Ebook Now for Only $9.95!



With well chosen ingredients anyone can concoct a low carb eggnog that's sweet tasting and satisfying. No need to sacrifice pleasure for health. If in doubt, let La Nouba Jams come to your rescue. Available from sugarfreeamerica.net, you can choose strawberry, blueberry, raspberry or most any other kind of berry you wish for flavoring.
These delicious sugar free jams come from the choicest fruits that the world has to offer. According to the company, these fragrant jams are made in open kettles following European traditions. They are bursting with flavor yet contain only 55 grams of fruit per 100 grams of spread. They feature
• Approximately 1 gram of net carbs per tablespoon
• No additives or preservatives
• No artificial coloring
• All natural
• Sweetened with Maltitol
• Perfect for low carb dieters and diabetics alike


La Nouba Eggnog
Ingredients:
2 eggs
2 cups milk
2 Tablespoons sugar free jam

Procedure:

Combine all ingredients in blender (or mixer) and blend thoroughly. Serve immediately. Serves 2.

This is not your traditional eggnog. None the less, it's great for any diabetic or anyone else on a low carb diet. Or for that matter, anyone who wants a great treat and stay healthy at the same time. According to information from the respective companies the above recipe is truly a low carb eggnog drink. It contains--

egg--1 gram, 0 carbs, according to the egg carton

2% milk--11 grams net carbs per serving (1 cup)

Sugar free jam from La Noubla--1 gram net carbs per tablespoon


TOP of Low Carb Eggnog page
FIND a huge cache of eggnog recipes
HOME to Grassfed Recipes--Health Never Tasted So Good!