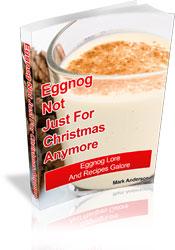 Want to Egg-spand your culinary pleasure? "Eggnog—Not Just For Christmas Anymore!" will eggs-ceed your egg-spectations! Eggnog lore, recipes galore. Buy Ebook Now for Only $9.95!


"Excellent!" Erik H., Iowa
"Searching for the right recipe can be overwhelming. Mark breaks down eggnog recipes for you with his helpful monthly suggestions! If you are like me, and still crave eggnog after the holidays, the "January " section is a great place to start!" Selina P, Minnesota
"In the past, it has always been really difficult to find non-alcoholic eggnog recipes for guys like me. No longer--that's why I love 'Eggnog--Not Just For Christmas Anymore!'" John A, United States Army
So how do you make eggnog? Well, you've got to have 3 basic ingredients—eggs, milk and some sweetener. Mix 'em together and you've got Voila!--Eggnog!Pretty simple, eh? Yeah, even a child can achieve success by making eggnog in your own kitchen. And he can do it in a jiffytoo. That's all there is to making a basic eggnog.
Now, how to make eggnog that's a little more special takes a tad bit of imagination. Suppose you want a healthy, sugar free eggnog for your family breakfast. You don't even need a recipe for eggnog. Just start experimenting. I did this very morning and here's what I came up with—a sorghum sugar free eggnog.
Sorghum Eggnog Drink Recipe
Ingredients:
2 eggs, hopefully from free-range hens
2 cups milk
3 Tablespoons sorghum, subsequently reduced to 2
What I did:
Crack the eggs into a blender. Pour in 2 cups milk. Add the sorghum. Blend at a high speed until all ingredients, especially the sorghum, are thoroughly mixed.
Then I tasted this newly created recipe for eggnog. Would it be yummy? Or a flop? (I've had some of both. I once tried a root beer egg nog. Before I got the ingredients just right, my daughter's comment was emphatic, "It's horrible!") In this case, the result was yummy-- too yummy. The three tablespoons of sorghum made it a little too sweet. Sorghum is like honey, very sweet. After a while, I let our daughter try it. Confirmed! "Too sweet!" she said, so I toned it down a bit—2 tablespoons sorghum instead of 3.
The recipe was really good cold. Then I thought, "Why not heat it up in the microwave and see what happens?" Turns out it was even better warm. It got a little frothy on top and made me feel all warm and happy inside. I knew we had a winner!
So, how to make eggnog? Make it any way you wish, just enjoy it!

TOP of How To Make Eggnog Page
GO to Main Eggnog Recipes Page
HOME to Grassfed Recipes--Health Never Tasted So Good!