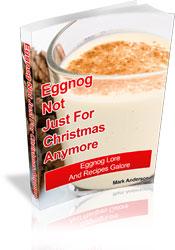 Want to Egg-spand your culinary pleasure? "Eggnog—Not Just For Christmas Anymore!" will eggs-ceed your egg-spectations! Eggnog lore, recipes galore. Buy Ebook Now for Only $9.95!


"Excellent!" Erik H., Iowa
"Searching for the right recipe can be overwhelming. Mark breaks down eggnog recipes for you with his helpful monthly suggestions! If you are like me, and still crave eggnog after the holidays, the "January " section is a great place to start!" Selina P, Minnesota
"In the past, it has always been really difficult to find non-alcoholic eggnog recipes for guys like me. No longer--that's why I love 'Eggnog--Not Just For Christmas Anymore!'" John A, United States Army
Commercial eggnogs are available in the dairy section of most supermarkets during the Christmas holiday season. Drink them if you dare! I stay away from commercial eggnog for four main reasons.
One, the ones I've found so sweet they're almost sickening.
Two, commercial eggnogs are expensive--about 4 times the cost of homemade eggnog recipes.
Three, they're loaded with chemicals. Someone once said, "If you can't pronounce the ingredients, don't eat it!"
Four, can you find a commercial eggnog without high fructose corn syrup (HFCS) as a primary ingredient? Well-informed health-conscious people understand the detrimental effects of HFCS. (It spikes insulin levels and is a major contributor to obesity.)
This morning I concocted an original eggnog recipe. It's really an eggnog milkshake—just right for a hot and humid July afternoon snack (or anytime for that matter.)

Caramel Eggnog Milkshake
Ingredients:
3 eggs, preferably from free-range hens
1 cup milk
8 scoops vanilla ice cream
2 Tablespoons caramel sauce, overflowing

Procedure:
Place all ingredients together in a blender. Blend until all ingredients are integrated. This may take up to 2 minutes as the caramel sauce tends to be thick and sticky.
Is this the best eggnog I've ever concocted? No, I don't think so. Maybe not the best, but it sure hits the spot on a hot and humid summer day!

TOP of Homemade Eggnog Recipe Page
GO to Main Egg Nog Recipes Page for oodles of eggnog recipes
HOME to Grassfed Recipes--Health Never Tasted So Good!