Hassle-Free Christmas Eggnog Adds Punch to Any Party
Looking for that perfect Christmas eggnog recipe? This eggnog punch will add just what you want — punch to your party! In addition, with this easy eggnog, you can take a break from holiday pressures—it's that quick. Here's the eggnog drink that will delight your family and friends. . .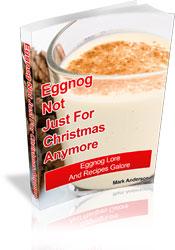 Want to Egg-spand your culinary pleasure? "Eggnog—Not Just For Christmas Anymore!" will eggs-ceed your egg-spectations! Eggnog lore, recipes galore. Buy Ebook Now for Only $9.95!


"Excellent!" Erik H., Iowa
"Searching for the right recipe can be overwhelming. Mark breaks down eggnog recipes for you with his helpful monthly suggestions! If you are like me, and still crave eggnog after the holidays, the "January " section is a great place to start!" Selina P, Minnesota
"In the past, it has always been really difficult to find non-alcoholic eggnog recipes for guys like me. No longer--that's why I love 'Eggnog--Not Just For Christmas Anymore!'" John A, United States Army
Holiday Eggnog Punch
Ingredients:
3 eggs, hopefully from free-range hens
3 cups half and half cream
3 tablespoons sugar
1-pint vanilla ice cream
1-quart 7-up

Procedure:
Remove ice cream from freezer to soften. Combine eggs, half-and-half cream, and sugar in blender or mixer. Blend thoroughly. Pour into large punch bowl. Add softened ice cream. Slowly add 7-Up. Stir gently.
Serves between 16 and 20.

TOP of Christmas Eggnog Page
GO to Main Eggnog Recipes Page
HOME to Grassfed Recipes--Health Never Tasted So Good!